The 22nd edition of WLPE, the
Workshop on Logic-based Methods in Programming Environments
, took place in the magnificent and welcoming city of Budapest.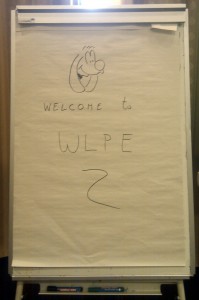 The aim of the workshop was to provide an informal meeting for researchers working on (logic-based) methods and tools that support the development and analysis of programs.
This year, in spite of a rather short one-afternoon program, WLPE attracted between 20 and 25 attendees. The workshop started after the last ICLP session with the invited talk Constraint-Based Runtime Prediction of SLA Violations in Service Orchestrations by Manuel Carro. Then, the program continued with talks by Jan Wielemaker, Spyros Hadjichristodoulou, Romain Demeyer and Nicos Angelopoulos on a variety of topics.
During the two sessions, we enjoyed a pleasingly intense interaction between the speakers and the audience, as well as lively and constructive discussions among the participants. Being primarily advertised as a friendly forum for the discussion of new ideas, we deem that the workshop clearly fulfilled this objective and may be called a success.
We would like to take the opportunity to thank the ICLP 2012 organizers, the WLPE Program Committee, the authors and all participants. They all made the 22nd edition of this workshop a very pleasant, instructive and worthwhile event.